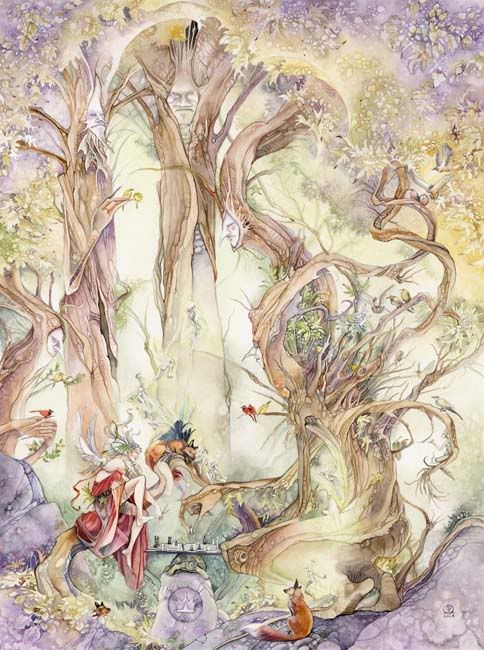 ©Stephanie Pui-Mun Law, 2004
Stephanie Pui-Mun Law is a fantasy illustrator. The bulk of her work depicts fairies, dragons, foxes, and various nature themes. I can't remember when I was introduced to her work, but I can remember picking up a book in a book store back in 2004, and buying it just because I recognized her work on the cover. A lot of her paintings are for book covers, and I believe she has done some role playing book illustration as well.
This is my favorite piece by her. It is pretty typical of her style, with tiny intricate detail in the leaves and textures of the bark of trees, contrasted against pretty large expanses of salt speckled water color washes. Her color pallets tend to be a mix of earth hues, sometimes with some purples or brilliant blues thrown in to contrast whatever slightly yellow or orange hue the browns take on. Her pieces are generally very narrative and tell a story all their own without being accompanied by any text. I particularly love the narrative of this piece, which makes you feel like an ordinary forest just waits for you to turn your back, and then returns to its whimsical life it was enjoying before you interrupted it with your darn reality.